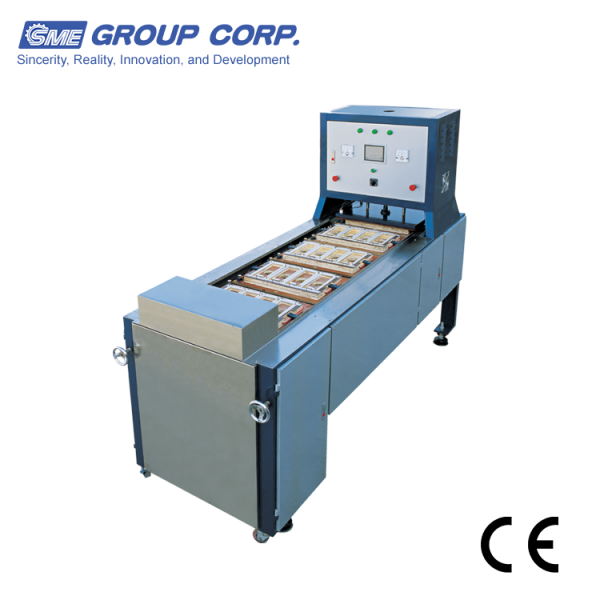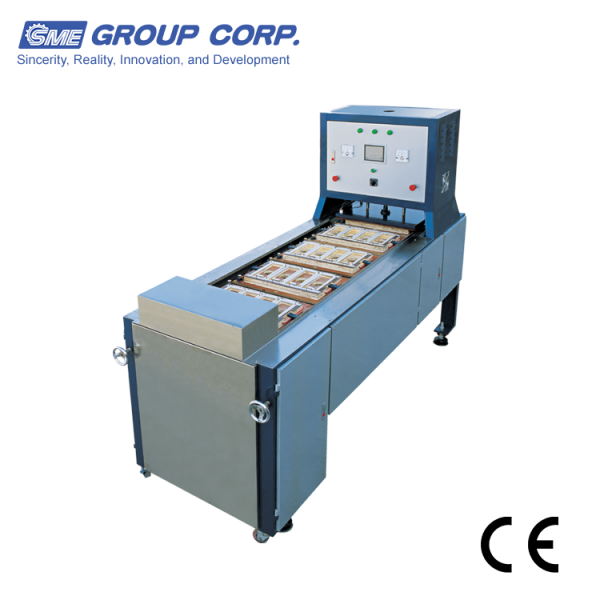 Automatic Blister paper card and PVC Packing stationery heat sealing machine
Description
Automatic blister heat sealing machine-BP80
The machine is used in PVC/PP/PET etc. sealing
1) By relay under auto mode
2) High capacity
3) Environmentally friendly
Description
       BP series Automatic Blister Sealing Machine is suitable to seal the blister cover onto the cardboard, using the pulse fever principle (36V voltage to heating the Bakelite), choosing different current output according to the area you want to seal, then done the sealing under the cooling and pressure-adding environment. This machine can be used on packing beautiful toys, stationery, daily necessity , living goods, cosmetics, industrial products, hardware tools and small toolsvery efficiency and the finished shape is very enjoyable.
The machine data: 
Model
BP-8012PLC-FA
BP-8012FA
Type of operation
Continuous chain design
Type of control
PLC
Relay
Size of press plate
560×380mm
Work units
12-14
Press stroke
150mm
Power supply 
220VAC1PH
Power consumptions
3KW
2.2KW
Production capactiy
16 times/min Max.
Machine size
2500×850×1900mm
2500×850×1850mm
Machine weight
400Kg
450Kg
Characteristics
1. The adoption is adjustable to control an electricity to have fever principle and complete bubble cover and carton heat to match.
2. Pack a product radiant and transparent, raise product file a time.
3. Pack the product transparent beauty, pack speed quickly.
4. Trigger tiny move a switch, the pulse in the machine has fever system and cooling system and then will automatically operate.
5. The whole machine protects to use (protect to use a year, life long support)
Working Principle:
Put material on mould→clamp the product→heat the material→seal product→cool product→take out the product
Basic units:
1.indicator light:tell you whether it is heating
2.temperature controller:control the temperature of the platen
3.heating switch:turn on/off the heating power
4.power swith:turn on/off the whole power
5.The figure of dial
6.count:count the product
7.heating time switch
Excellence of equipment
1.The electro-pyrexia system is adjustable which can control an electricity with fever principle and complete bubble covered and has heating carton to match.
2.The packed products are transparent and beauty,and pack speed is quickly.
3.Trigger a tiny moving switch,the pulse in the machine with fever system and cooling system will automatically operate.
4.The whole machine products to use a year,life long support.
mold:
sample: