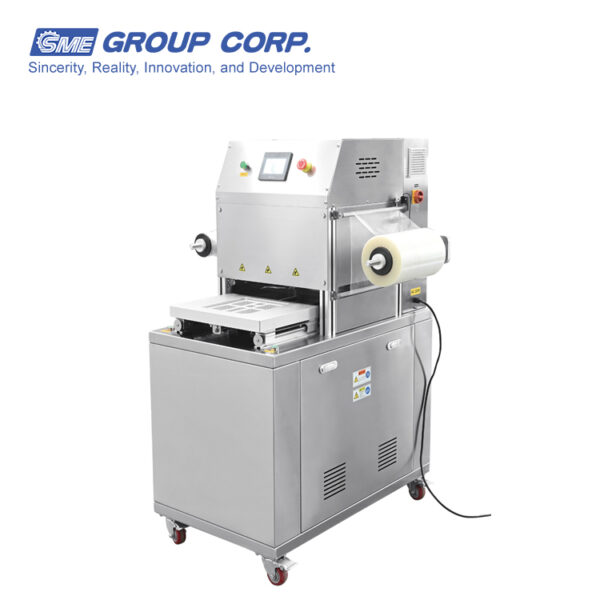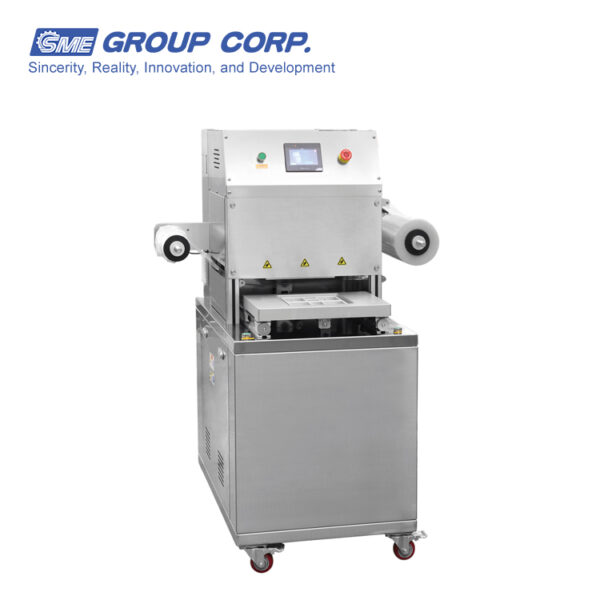 High-efficiency Automatic food tray sealer tray sealing machine
Description
The machine is to seal pre-ready trays, with MAP and skin pack options. It's ideal for retails of small volume packing. It's widely applied in food, vegetables, fruits, snacks, hardware, and medical instruments.
Advantages
Stable running. Even a tiny component is from famous top quality brands.
Strong sealing. We guarantee strong sealing technology
Safe and easy operation. The machine is fully controlled by PLC screen.
Long shelf life. Outstanding M.A.P. packaging with vacuum and gas flush.
After-sale service. engineers are able to service overseas.
Large size 10″ touch screen makes the operation easy and safe. The system is simple to learn and easy to use. The machine also has easy mold changing design which makes the mold changing fast and easy.
APPLICATION:
Restaurants, hotels, canteens or stores to seal the plastic trays which be used to fill wide variety of foods, such as fast food, snack, cooked meat, fruit, seafood, soup, sauce etc
SPECIFICATIONS
Model: SSEAL-HV-310 Tray Sealer
• Maximum tray height: 110mm
• Maximum tray length x width:
Sealing 1 at a time: 330x220mm
Sealing 2 at a time: 150x220mm
• Single roll holder
• Gas replacement rate:99%
• Vacuum pump: 20/40 m3/hour
• Working pressure:0.6-0.7Mpa
• Maximum roll width: 310mm
• Cycle time: 15-30Sec
• Voltage: 220V/100V 2Kw
• Machine dimensions: 950x900x1400mm
• Packing dimensions:1050x1000x1400mm
• Weight: 170 Kg 220kg
• Outer packing: wooden case
Insertion and closure of the tray cavities.
Vacuum if required (optional).
Gas flush if required (optional).
Sealing of the film to the tray.
Form cutting of the film.
Trays return to starting position.
Film advances for next cycle.
During the return of the cavities to the starting position the trays are lifted to facilitate the removal and reloading of the cavities.
Should more than one cavity size be needed, changing operations are fast and do not require the use of tools. A tray' s height is changed in one minute and a complete cavity change is carried out in less than 5 minutes.
The SME MACHINE conforms to International "CE" safety codes and conforms to ISO 9001 quality standards.
Safety covers are provided to limit access to the cutting and sealing area during the cycle.
The covers are equipped with safety switches.
The two hand start requires the operator to hold the 2 start buttons one with each hand until the cavity draw is in place and the packaging cycle starts.